Virunga Mountains | John Seach

African Rift Valley

Virunga mountains cover a great diversity of habitats, from steppes, savannas and lava plains, swamps, lowland and montane forests to volcanoes and the unique giant herbs and snowfields of Rwenzori over 5,000m high.
The Virunga National Park covers and area of 790,000 hectares. It is contiguous for 45km with the Rwenzori Mountains National Park in Uganda (99,600ha), also a World Heritage Site, for 50km with the Parc National des Volcans in Rwanda (15,000ha) and for a few kilometers with Mgahinga Gorilla National Park (2,900ha) in Uganda.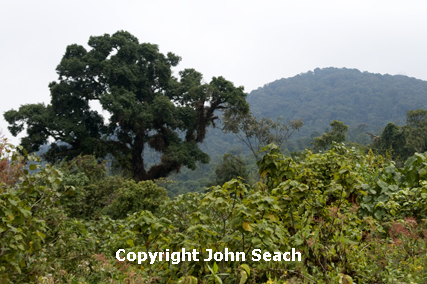 Virunga Range - John Seach
The national park was inscribed as a World Heritage site in 1979.
The park lies in the western (Albertine) rift valley and on the adjacent mountains. It includes five main biomes: the forested granitic Rwenzori and volcanic Virunga massifs, lowland forest, savanna, and swamp-edged lake.
The Virungas comprises the flanks of volcanic Mts Karisimbi, Mikeno, Visoke, Sabinyo, Nyamuragira and Nyiragongo (3,469m).
The areas of lowest and highest rainfall in Democratic Republic of Congo are found in Virunga National Park less than 75 kilometers apart. Rain falls all year but more heavily from March to May and mid-September to mid-December, with drier spells following each. Annual rainfall averages 500mm at Lake Rutanzige, 900-1500mm on the plains south of the lake, decreases higher on the volcanoes but on the west slope of the Rwenzoris orographic precipitation is almost 3,000mm. These mountains have heavier snowfall than Mounts Kenya or Kilimanjiro, are permanently ice and snow-covered and carry small retreating glaciers.